Translations
Don't just break language barriers.

Eliminate them.
Translate emails and landing pages quickly and easily inside of Knak.
Watch Demo
Say more with AI
Create content faster: Get AI-powered translations in up to 75 languages in just minutes—and do it securely.
Scale your talent: Launch more campaigns by using AI translations to support your existing translation team so they can work smarter, not harder.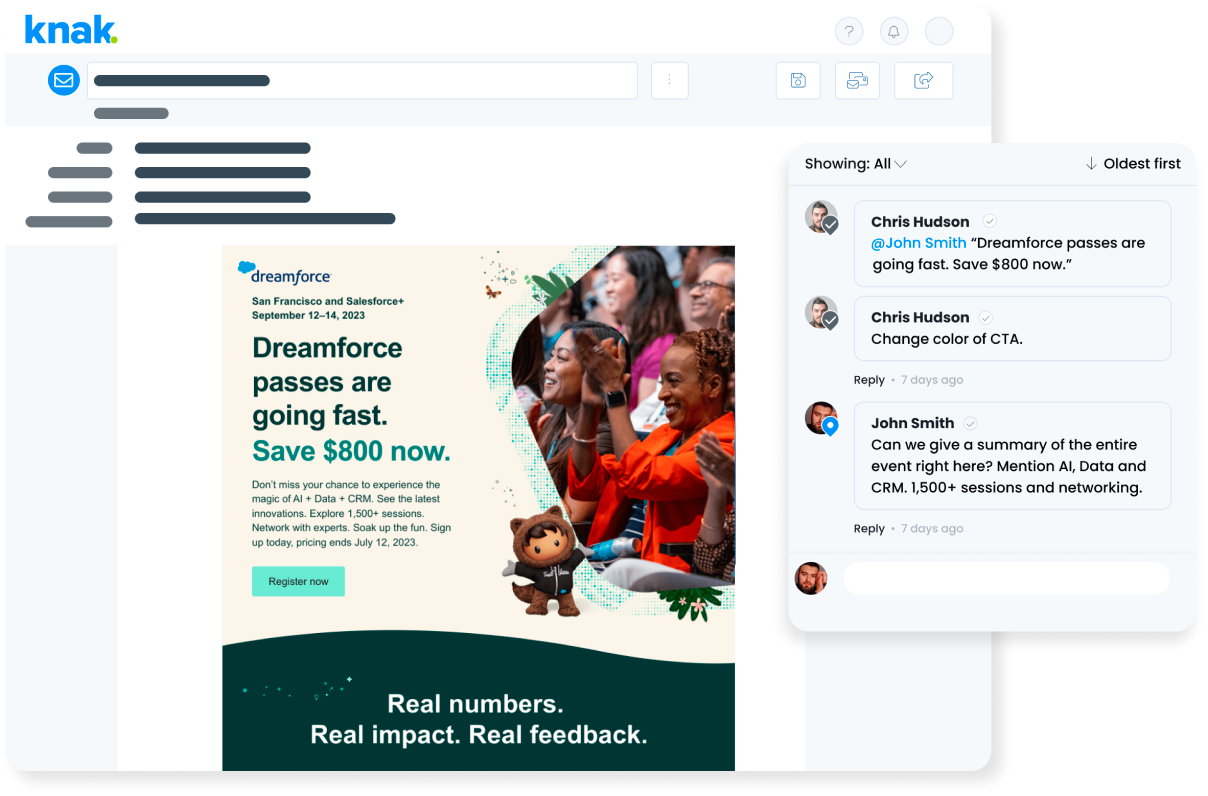 Simplify the process
Ditch the docs: Leave comments, get reviews and approvals, and tag teammates right inside Knak.
One version to rule them all: Easily create multiple language variants of your campaigns from one asset, and have design changes automatically apply to every variant.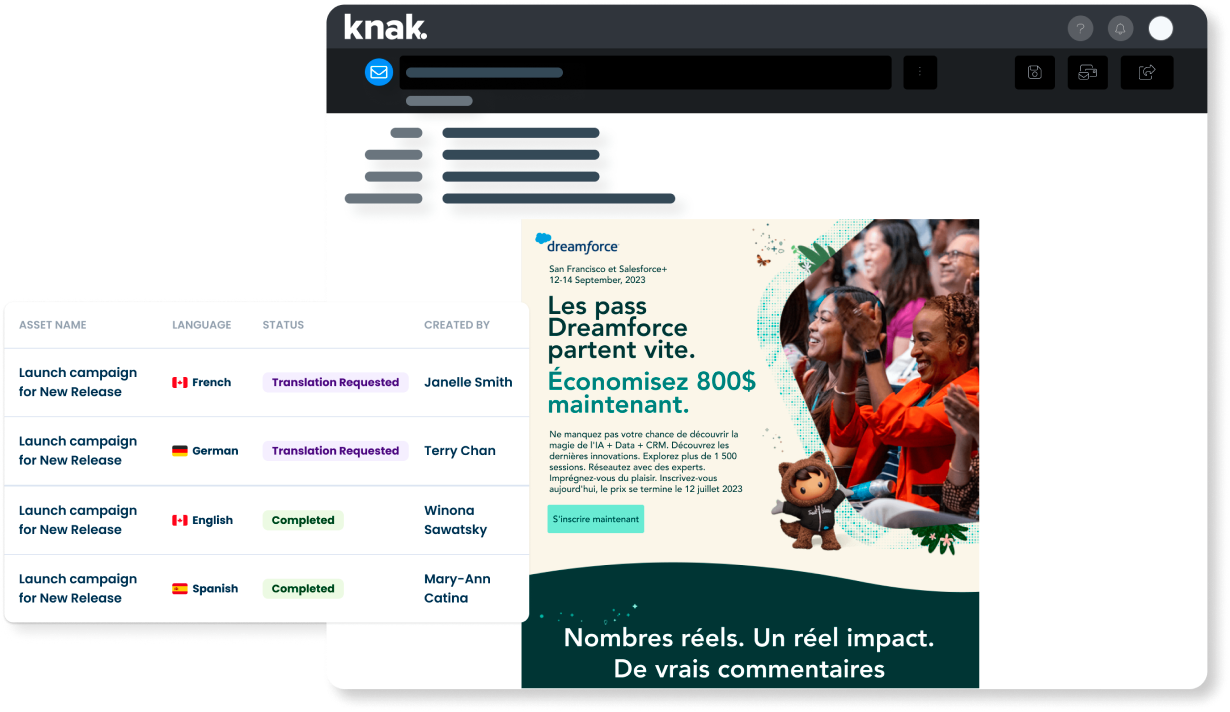 Go global, but do it local
Reach further: Scale your regionalization strategy with the ability to communicate with prospects and leads anywhere.
Boost every metric: Elevate your brand in different regions and sell to more customers with the ability to localize your campaigns.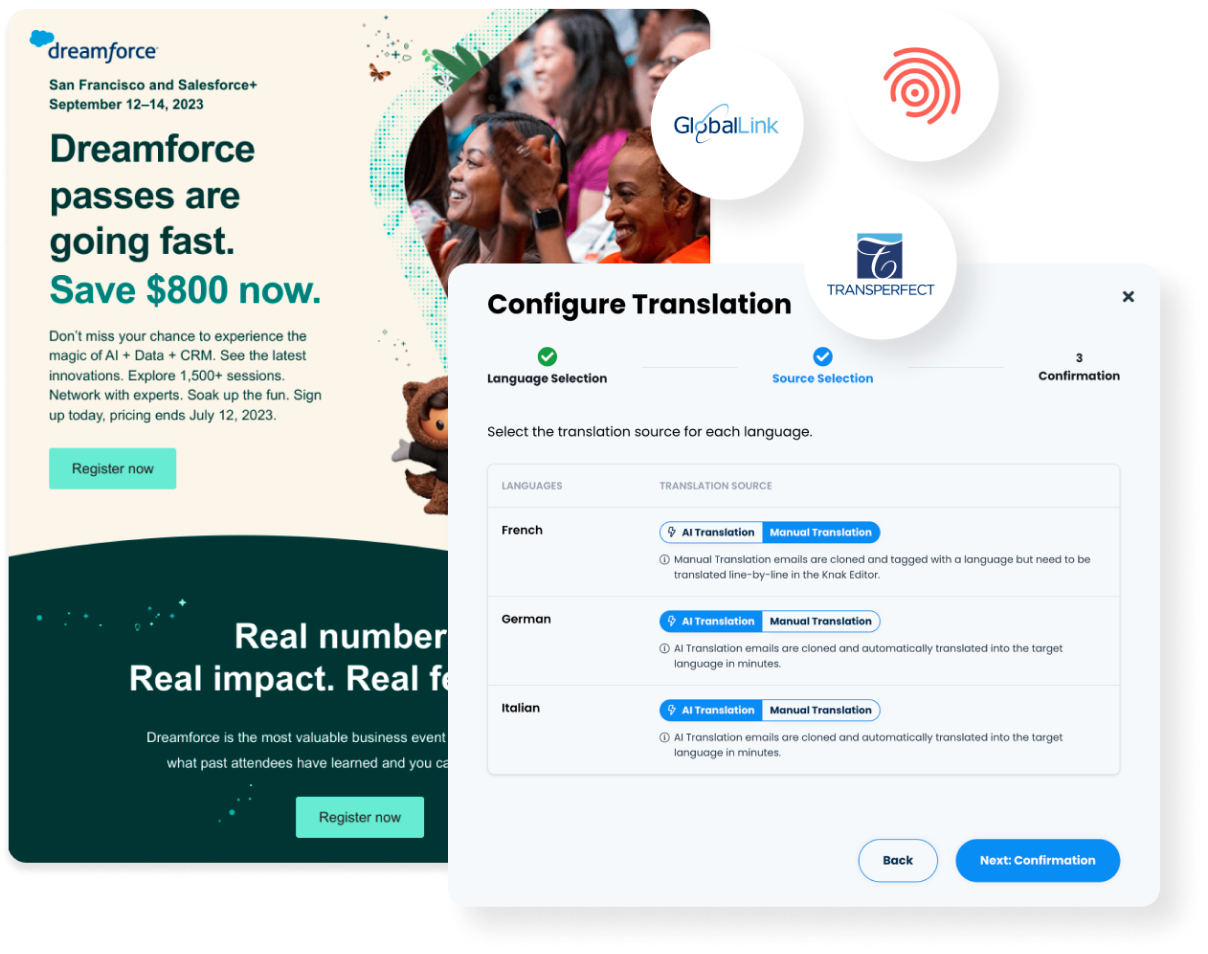 Human-compatible
Translate manually: Simplify the way your existing translation team works by creating smarter processes within Knak.
Integrates with your translation service: Streamline your translation process inside Knak when working with translation services like TransPerfect.
Knak is trusted by some of the world's best brands
Knak has been a huge time saver. There is a lot of email functionality missing from our current system that Knak provides, including mobile email previews, drag and drop editor, setting UTM parameters, etc. In the time it would take me to create one email with our previous email builder, I can create 5-10 in Knak.

Brianna Smith

Marketing Associate, CloudCall

Until I discovered Knak, I just accepted that producing branded emails was a long and tedious process.

Don Le

Marketing Operations Director, Meta

It is refreshing to know that I can build an email inside and out, and know that it will literally render properly across all email service providers.

Chris Kowalczyk

Marketing Automation Manager, Solace
Built by marketers, designed for everyone
Discover the future of no-code email and landing page creation.
See it in action