Free Premium Marketo Email & Landing Page Templates for Enterprises
Get a free custom Marketo email template and/or landing page template—no coding required—if you are an organization with revenue 500M+.
Fully integrated with
Get your templates
Branded Marketo email and landing pages - no coding required
Fully Branded

Simply provide us with design specs and your details and we will design your custom template with your logo, colours, and fonts.

Fully Responsive

Knak delivers fully responsive Marketo email and landing page templates.

Marketo Ready

Once you're ready, you can sync your assets directly to your Marketo instance. It's that easy. No coding required.
What is a Marketo Template?
Marketo Email Templates
Marketo email templates are pre-designed layouts that enable marketers to customize elements within their framework, helping them create visually appealing and consistent email campaigns without having to hand-code an email's design from scratch.
These templates are created as pure HTML documents, which can be directly input into the Marketo Email Editor. From here, Marketo users can make specific customizations to the content within the template.
Using email templates in Marketo helps to streamline the email creation process, making it much easier for marketers to build engaging emails in a shorter amount of time, all while ensuring consistency across email communications.
Marketo Landing Page Templates
Marketo landing page templates, like their email templates, are pre-designed layouts built using HTML, CSS, and Javascript that marketers can use to create new web pages to support their marketing campaigns.
Landing page templates are typically created by highly-experienced web designers and developers that ensure the page will be responsive* and have the proper analytics attached, even after marketers customize the template's content.
*TIP: The market is moving towards a Mobile-First approach. When designing any page, keep this in mind!
Once selected, templates can be easily imported and edited within Marketo's Design Studio. From here, marketers can modify images, text, links, forms, and more without having to have extensive coding experience.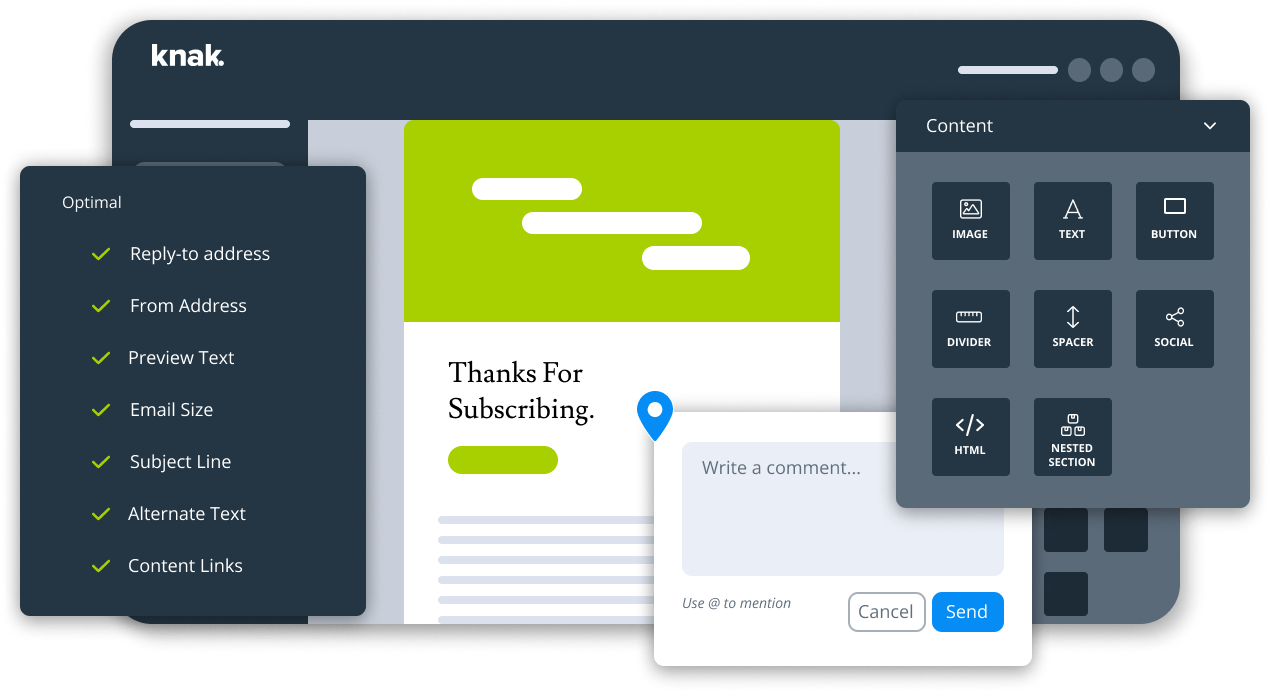 Ready to graduate from templates?
With Knak — our easy-to-use drag-and-drop email builder — anyone can create fully-custom branded emails and landing pages without any coding experience.

Sync emails directly to your marketing automation platform through full integration with Marketo, Eloqua, Salesforce, and more. Plus, our platform enables multiple employees, teams, and departments to team up for email marketing campaign planning and creation through workflows, approvals, and collaboration tools.
Want to learn more?
Best Practices for Designing Marketo Emails and Email Templates in Knak
Fonts:
Select web safe fonts to ensure your email recipients will always see the design you want them to see. Global fonts—available in Knak—allow you to define a font at the brand level which you can then build with by using the 'Inherit font' in the font selection menu.
Images:
Too many images, or image files that are too large, can add a lot of weight to your email, which negatively impacts the email's deliverability. We suggest you keep the total file sizes of all images contained within your Marketo email to under 1MB.
Image Alt Tags:
Not everyone will be able to view images in your email - it is not uncommon for recipients to have images blocked by default. To ensure users can still understand the message of the email, with or without the inclusion of images, be intentional and purposeful with where these images appear and be sure to use descriptive alt text.
Image Dimensions:
For optimal rendering, we suggest you use an image with a width that is twice as wide as the content block you're putting it in. As well, a good rule of thumb is to have a PPI (pixels per inch) value of 72 or higher for email images.
Email File Size:
The smaller the file size, the better. Emails with a ton of data will often see deliverability issues. For example, Gmail clips the end of any emails that are larger than 102kb. In order to keep your file size to a minimum, we recommend keeping the number of new sections you use in a Marketo <> Knak email to a minimum, only starting a new row if you need a different column layout.
Padding Consistency:
Use the same padding on each side of an element to ensure it looks good on all devices. Keep in mind that uneven padding can look wonky when elements are stacked on mobile, so make use of the desktop vs mobile padding option in the Knak editor.
Links:
It goes without saying that your emails should always have an unsubscribe link which works and is easy to find. Beyond that, consider adding in links to 'forward to a friend' and 'view as webpage' as well, since an email that is forwarded via an email client's forward button is not guaranteed to render well.
Modules:
Make use of Modules! If you have a specific layout (alignment, padding, spacing, etc.) that you'd like to use over and over again, a good option is to build out one module and then clone it to create additional modules. That way your layout will remain the same.
Colours:
Ensure the colours you are using work well for all visual abilities. Make sure text and other elements will still be visible for individuals with color blindness, or for those with other visual impairments. Keep in mind that some email recipients may be viewing emails in Dark Mode, so it is also important to test out how colouring is impacted by Dark Mode on any device or email client.
Sync:
After building your email in Knak, you can sync the asset directly into your desired Marketo program. To do this, go to the Publish dropdown in the asset's editor, press Sync, and select the the Marketo Program you want to sync to.
Knak is trusted by some of the world's best brands
Best Practices for Designing Marketo Landing Pages and Landing Page Templates in Knak
CTA(s):
When building a landing page, prioritize the desired action you want your prospect to take. Place the Call-To-Action (CTA) front and center, drawing immediate attention. To maximize impact, restrict the page to only one CTA, keeping the focus sharp and avoiding distractions.
Forms:
Consider limiting the number of form fields on your landing page to fewer than 7. Wherever possible, we actually recommend aiming even lower: As much as we want to get as many details from the prospect, we need to ensure that the form is simple enough for them to fill out. By streamlining the form and only asking for essential information, you enhance the chances of encouraging prospects to take action and boost overall conversion rates.
Navigation:
While small footers are a good call, we suggest minimizing the use of navigational elements on your landing page. Navigational elements distract users from the ultimate conversion goal of your page; a landing page will work best if it stands alone.
Messaging:
Ensure the messaging from your email, post, or ad directly carries over into your landing page.
Responsiveness:
Over 50% of website traffic is now from mobile devices, so it is critical to design landing pages that inspire action for both mobile and desktop users (Exploding Topics). Knak's landing page builder allows marketers to adjust elements, down to the pixel, for different screen sizes and allows you to test responsiveness in real time.
Colours:
Colour adds character and life into a design. However, think of it from an accessibility perspective. Accessibility in design means being able to create something that can be enjoyed and experienced by the widest range of viewers, and sometimes, contrasting colours prevent this from happening.
Load Time:
Ensure that your page loads quickly. Slow lead time results in lower sales. Avoid weighing down your landing page with unnecessary elements that can slow it down. Ensure that the page is optimized. Tip: you can use the Optimize tab in Knak to see if your page is in optimal setting.
Sync:
After building your landing page in Knak, you can sync the asset directly into your desired Marketo program. To do this, go to the Publish dropdown in the asset's editor, press Sync, and select the the Marketo Program you want to sync to.
Why marketing teams love Knak
95%faster speed to market

22 minutesto create an email*

10K+marketers using Knak
* On average, for enterprise customers
Marketo Email and Landing Page Templates FAQ
Marketo templates are pre-built HTML-based documents that lay out the general structure for an asset (email or landing page) used and/or built in Marketo. Marketo templates must contain at least one editable section, allowing the content of the asset to be customized.

If you are creating an email or landing page template using a no-code, WYSIWYG builder, such as Knak, marketers can sync their templates directly into their Marketo programs. From there, users can go into the Marketo editor and make content adjustments.

The recommended file size for an email in Marketo is 75 KB, with an ideal maximum size of 100 KB. In Marketo, the maximum size per file or image that can be uploaded is 100 MB.

Using a no-code landing page builder, such as Knak, marketers can create engaging landing pages for Marketo without having to grapple with code themselves. With drag and drop functionality, marketers can embed Marketo forms and buttons, utilize tokens to personalize content, and more in minutes. Marketo allows you to easily sync landing pages built in Knak directly into your pre-built programs, with just the click of a button.

No, Marketo is not meant to be the foundation of your website. Marketers can build and host landing pages for their brand, and can track users across their website, but the intended use of Marketo is not to build complete websites.

Yes. Marketers can create and code landing pages in Marketo. For marketers without extensive coding knowledge, Marketo supports the use of Knak to build engaging landing pages (and emails) without having to touch a single line of code.

Free email templates can be requested from the Knak team. However, a subscription to Knak's code-free email and landing page builder is priced on a per-user basis.

You can manually import an HTML email by copying the source code of the email, selecting the Source button in the template editor, then pasting the source code into the window. Marketo's API also enables a number of integrations with email building platforms, allowing for email imports to happen with the click of a button.

Yes, Marketo has pre-built templates available to their users. For marketers wishing to create their own custom templates, Marketo supports the use of Knak-created templates for both emails and landing pages.
Let us show you the future of email and landing page creation
Schedule some time with our team and see how you can build beautiful no-code emails and landing pages.
Book a Demo