New Free Template offering
We no longer offer our templates app, but we think you'll love our new custom template offering.
Yes, that's right - we will make a free custom template to your specs instead of being bound to specific samples. Find out how and request your custom template.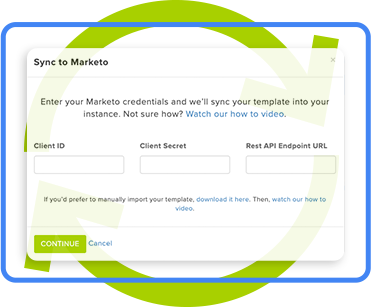 Marketo Email Templates
We can create custom Marketo email templates and landing pages that are fully integrated with Marketo.
Get Marketo templates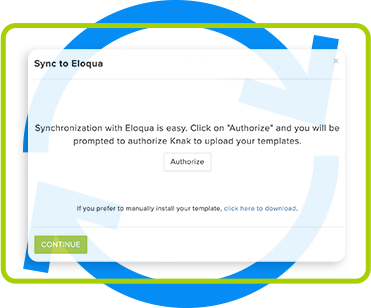 Eloqua Email Templates
We can create free custom email templates and landing pages built specifically for Eloqua.
Get Eloqua templates
Custom-branded campaign ready email templates.
Fully Branded
Put our brand generator to work for your company. This tool automatically pulls brand assets into your templates including logo, colours, and fonts.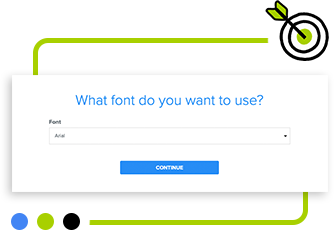 Fully Responsive
Our landing page and email templates make your newsletters look great on any device. Browse a selection of over 50 free templates.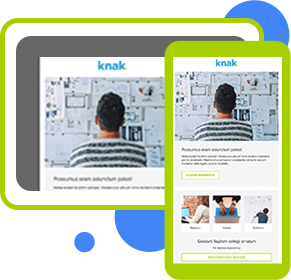 Campaign Ready
Your free email templates can be directly synced to your Marketo or Eloqua account, no HTML experience required.
Ready to graduate from templates?
With Knak — our easy-to-use drag-and-drop email builder — anyone can create fully-custom branded emails and landing pages without any coding experience. Sync emails directly to your marketing automation platform through full integration with Marketo, Eloqua, Salesforce, and more. Plus, our platform enables multiple employees, teams, and departments to team up for email marketing campaign planning and creation through workflows, approvals, and collaboration tools.
Want to learn more?
Watch Demo