Knak recently moved into a new office building. The move coincided with a decision to require employees to come into the office at least three days a week. (To keep commutes reasonable, we also decided the decision would apply only to people living within a 30-kilometre radius of the new location.)
Because we were moving into a new space, we decided to take advantage of the occasion to really think through what it would take to create a properly functioning hybrid office.
We're glad we did, because our new hybrid office system is working well.
In this post, I list what we did to make things work. While we had the advantage of starting from scratch in a new space, many of the concepts listed here can be applied in existing offices.
We structured the office to facilitate collaboration
Working from home has all sorts of advantages, but it makes it harder for people to work together. Collaboration happens best when people share the same physical space. So when we were planning the new office, we designed the space to facilitate employee interaction.
For example, we did away with cubicles in which people would be hidden from one another; instead, we created open spaces and lots of meeting rooms. This includes a large board room that can hold up to 40 people, because we wanted a space where an entire department could gather. We made sure there are lots of white boards in those spaces to facilitate the exchange of ideas.
We also decided to dedicate one-quarter of our floorspace to the kitchen.
That may seem like a lot, but the kitchen is a natural gathering place and we want our employees to build relationships. That's really important. We also wanted a space where everyone could gather.
Any company that wants to bring people back in should give serious consideration to how people will work with each other, and tweak their existing office setup to facilitate interaction.
We thought through intangibles to create a safe and inspirational space
We wanted the office to be a place where people would WANT to be; to that end, we worked hard to make it an inspirational place, a place that inspires not only camaraderie but also creativity.
These are intangibles, but they go a long way to making people feel comfortable.
In addition to tons of natural light, comfortable furniture, high-end finishes and areas zoned for different kinds of work (including quiet zones), we have an amazing coffee machine as well as snacks and drinks.
We also decided not to be dogmatic about office hours, and we allow for flexibility about when people come to work. Some employees are early risers and show up bright and early; others come later. We want to build an office where no one's in trouble if they're not at their desk by 9:01 a.m.
We are intentional about our how we use office days
Our policy mandates three obligatory office days: Tuesdays, Wednesdays and Thursdays. Employees are free to work from home on Mondays and Fridays, but they can come into the office if they want to.
Because we gather everyone together only three days a week, we want to make sure that we use those days to do things that cannot be done with everyone at home. In other words, I don't want people coming into the office to do the work they could have done by themselves at home.
We also asked our leadership team to set an example by blocking off time in their calendars for lunch, between 12:15 and 12:45 p.m., every day they are in the office. This is to encourage people to gather in the kitchen and chat. It's working, and most people are taking a much-needed break at lunchtime.
We also asked that as many meetings as possible be scheduled for Tuesdays, Wednesdays or Thursdays so that they could happen in person, in the office.
This is the bare minimum; we encourage as much interaction as possible.
In a sense, everyone gets out of the new office what they put into it.
We did what we could to make the office enticing
We provide employees with little things that help make the office a great place to be. For example, we offer snacks and drinks, and we have a really good coffee machine; all these things add up and make the office a welcoming and comfortable place.
However, we are still learning about some areas of improvement.
We quickly discovered that some of our developers had better quality monitors at home than we had for them at the office. We acted quickly to correct the situation.
We created quiet zones for people who need to concentrate
As much as we encourage collaboration, we also realize that there are times when employees need to concentrate on a specific task. So to allow for that, we have a number of soundproof pods where people can work if they need quiet.
We've found that people who need to concentrate enjoy these pods.
So does everyone else. During our office launch party, we had some fun by squeezing 18 people into a two-person pod; we have photos to prove it!
We launched the new routine with the new office
The launch of our new work policy happened to coincide with our move to a new office. That made launching the new policy easier, because a new start in a new space. We worked hard to make that first day in the new location special, providing incentive for everyone to come in.
For example we had music in the lobby and the leadership and People & Culture team cheered people as they walked in. People were served mimosas and orange juice and escorted to their desks. We also gave people personalized mugs, Knak tuques and a handwritten note of welcome on a postcard. In other words, we wanted to make the first day a positive experience. It was also a celebration of the fact that after seven years of existence, Knak finally had a much larger and beautifully designed office space where everyone could meet, which was a big milestone for us.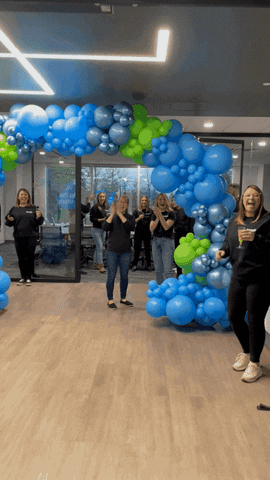 Later in the week we had a big office party, with a catered dinner, a bartender and a DJ. People danced and had a lot of fun and it was a great cap to our first week.
We powered through resistance to change
One of the big learnings for me in all of this is that people are hesitant to change.
After two or more years of working from home, a lot of people were comfortable in their routines. Some were resistant (at least initially) to the idea of having to travel to an office and everything that comes with that.
When the new policy was announced, we faced some pushback to a small number of employees about coming into the office.
Resistance to change is inevitable, and no matter what you do some people won't be happy. You just have to power through that and expect that people will adapt.
Generally, they do. We believe that three days in the office and two at home is a reasonable request.
We are inclusive of people who remain full-time remote workers
In the office, I am intentional about talking to people I haven't yet had a lot of contact with. I want to get to know them and understand what they are working on.
But 35 of our 80 employees live beyond a 30-kilometre radius of our office and are therefore not required to come in. They remain remote workers, and I don't want them to feel excluded.
We are making a special effort to address their needs.
For example, a lot of Knaksters on our Customer Success, Sales, Development and Marketing team's are remote workers. We decided to bring each group to Ottawa and to the office for kick-off meetings for 2023.
In a sense, we feel that everybody at Knak is a hybrid employee and we want to be mindful about not creating a distinction between those who come to the office regularly and those who live outside our designated 'local' zone.
We're making adjustments as needed
To make sure the office is attractive and meets everyone's needs, we are encouraging feedback about our arrangements and making adjustments as required.
For example, some sales reps pointed out that they like to do demonstrations with dual screen monitors, so we are making sure they have the equipment they need.
We sent an initial survey after the first week and got a lot of other useful feedback – small stuff like the placement of garbage bins or coat hooks. It can be annoying if people have to walk across the office to dispose of things, or if coat hooks are so low that coats drag on the ground.
Before we made the decision to require local employees to come to the office three days a week (a decision that affects 45 people), we worried that some might refuse to come in. We also worried about how we would deal with refusals.
But everyone did come in, even if it did require some adjustment to routines.
We are finding that some people love working in the office and are there five days a week; others like being able to work at home on Mondays and Friday and come in only on required days.
But whether they are there five days a week or three, it's nice to see people forming relationships at work. It's especially gratifying to see people from different departments getting to know each other. We've even got people hanging out in the kitchen after office hours and playing games!
When people work together in a shared physical space, the company culture gets stronger. That's a good thing for the employees personally because they are forming relationships, and it's good for the future of Knak.